Expanded ACT for Psychedelic-assisted Therapy: Integrated, Trauma-focused ACT, including Traumatic Incident Reduction (TIR) with parts work
COVID CAVEAT:
100% refund offered if there is a travel ban from your country to Spain at the time leading up to the training.
Dates:
2023 Dates:
20th Feb (arriving from 6-9pm arrival) until 28th Feb, 4pm
Contribution:
£1650 (inclusive of accommodation and meals)
Facilitators:
Lead by
Henry Whitfield
with support from colleagues
Dr. Robert Krause
and
Dr. Larry Leeman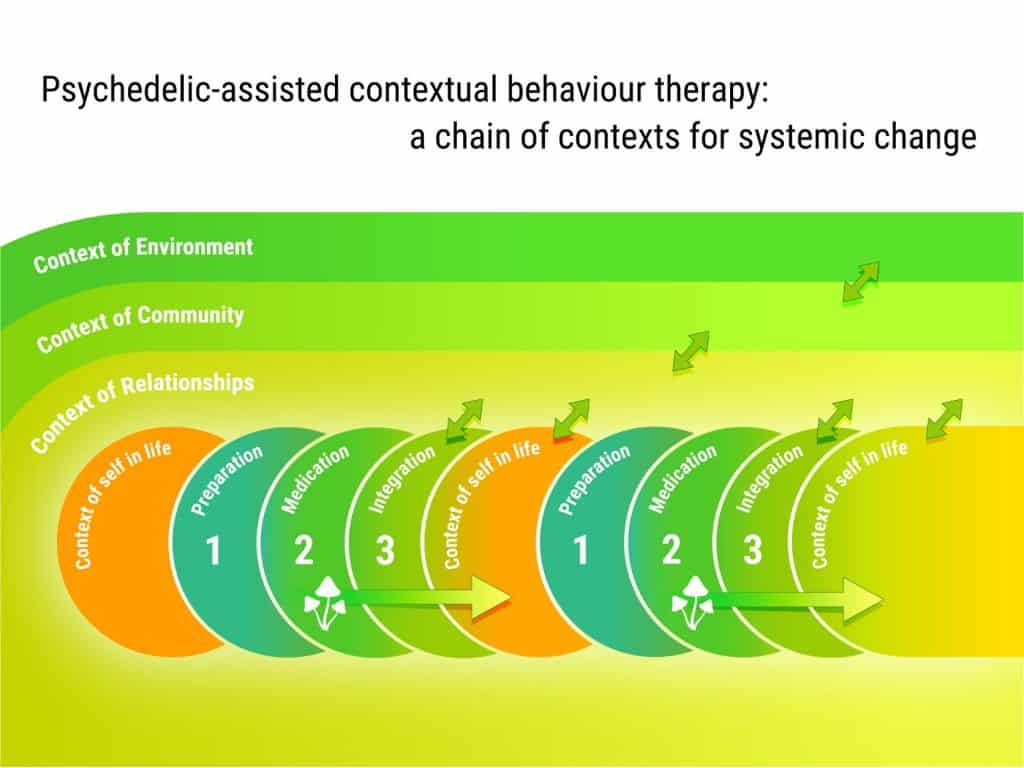 This training captures the 'sweet spot' between ACT, IFS and TIR, tailored to a wide range of psychedelic therapy challenges (See Spectrum of Selves paper: https://www.frontiersin.org/articles/10.3389/fpsyt.2021.727572/full for a detailed breakdown of these). Based on high-density data collected from over 50 participants attending our retreats, this training highlights what we know has been helpful in a psychedelic context. It integrates Internal Family Systems and Traumatic Incident Reduction (a titrated and structured imaginal exposure approach) with Acceptance and Commitment Therapy (ACT) into a simple and ACT-consistent framework. ACT provides the overarching framework of evolutionary and behavioural science principles. TIR and IFS offer additional engineered applications so that the evidence-based principles of Contextual Behavioural Science can be delivered more easily and with greater thoroughness and precision. You will learn multiple interventions that align precisely with the Spectrum of Selves as described in Henry's recent publication in Frontiers in Psychiatry, and that can be applied throughout the three phases of Psychedelic-assisted therapy. Much of the focus will be on psychedelic integration in that this phase of work is the most extended, and can also be applied in a normal private practice with clients who experienced psychedelics beyond your practice.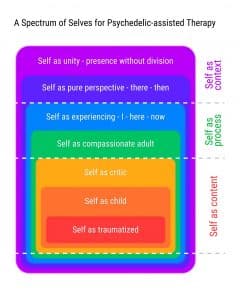 Rob Krause was a co-therapist and co-facilitator during the development of this approach, gave input on peak states to the Spectrum of Selves paper and will share his perspectives and as well as his professional and research experience with psychedelics
Larry gave input on archetypes to the Spectrum of Selves paper and will continue share his perspectives including from Hakomi and MAPS training points of view.
This extended training will include:
A 150 page manuals to support you during and after the training.
A full certificated training in TIR, a structured approach to Trauma/PTSD comparable to EMDR in its thoroughness and precision, yet more consistent with mindfulness and ACT.
ACT-informed Parts work to address inner conflict between your different selves
Differentiating between healthy and unhealthy self-story/narcissism
An experiential protocol for processing intense psychedelic experiences and re-accessing perspectives and insights from the experience.
Expanding and reinforcing new behavioural repertoires that flow from new perspectives
Overcoming complex/long-term trauma (often more accessible post psychedelic)
Working Somato-cognitively – reawakening feeling in the body
Mapping and reinforcing systemic change.
Inner healing intelligence versus active-directive interventions (when to do which)
Working with malevolent parts and archetypes
Unsticking stuck clients with advanced 'defusion' techniques (during and after a psychedelic experience)
Shame work as a shortcut to our deepest self-concept issues
Perspective switching exercise for transcending the polarities of the mind
Behaviour change coaching for increasing alignment in a person's life.
All these methods are integrated into a package for retaining and further developing the gains from Psychedelic healing experience.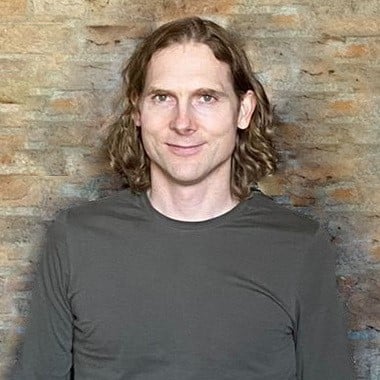 Henry J. Whitfield
MSc (CBT), ACBS peer-reviewed ACT trainer, MBACP, Advanced Traumatic Incident Reduction Trainer,
Henry Whitfield is an Association of Contextual Behavioural Science (ACBS) Peer-reviewed Acceptance and Commitment Therapy trainer, an Accredited Advanced TIR (PTSD therapy) Trainer and Cognitive Behavioural Psychotherapist (MSc – CBT). For over seven years Henry ran and supervised brief therapy for PTSD projects for Victim Support and Mind in London gun crime hot spots, using CBT and TIR. Henry has also trained over 1500 psychological therapists since 2003, supervising mental health professionals for ACT and Trauma work in the NHS. He is also a passionate integral thinker, publishing journal articles and book chapters on the integration of therapeutic models including, REBT-mindfulness, ACT-TIR-CBT, Person-centred-TIR. His psychedelic plant medicine path has changed how he does psychotherapy especially with self-concept issues. He has written, co-written and edited training manuals for ACT, TIR and FAP (relational psychodynamic). As a visiting research fellow at Regents University London, he focuses his research on the development of ACT-consistent models for psychedelic-assisted therapy, collecting high-density longitudinal data during psychedelic processes of change. He is also author of a new model of psychological flexibility A Spectrum of Selves, tailored to a psychedelic therapy context, published 2021 in Frontiers in Psychiatry.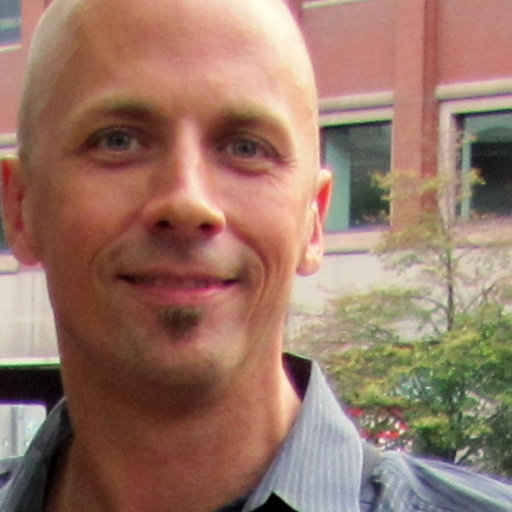 Dr Robert Krause
Robert Krause, DNP APRN-BC is a doctor of nursing practice and is a clinical specialist in psychiatric and mental health nursing. He is currently Visiting Faculty at The Graduate Institute where he is teaching a course in Mind-Body Medicine. For twenty years Robert was a Lecturer in Psychiatry at Yale University in the schools of Nursing and Medicine. 
He has lectured in philosophy at Quinnipiac University and at Western Connecticut State University. Robert has certifications in Global Mental Health: Trauma and Recovery from Harvard University, in Psychedelic-Assisted Psychotherapies and Research from the California Institute of Integral Studies (CIIS) and in Sex therapy also from the CIIS. He was a faculty advisor to the Yale Psychedelic Research Group and is currently the lead therapist and co-author of the treatment manual for the Psilocybin – Induced Neuroplasticity in the Treatment of Major Depressive Disorder at the Yale School of Medicine. He is also a co-author of the recently published 'Psilocybin-assisted therapy of major depressive disorder using Acceptance and Commitment Therapy as a therapeutic frame' Journal of Contextual Behavioral Science 15 (2020): 12-19′
Robert's daily practices include yoga, meditation and tantra. He completed yoga instructor training with Aum Pradesh Guar in Goa, India and was certified in tantra instruction through the Urban Tantra Professional Training Program. He has been practicing zazen meditation for 30 years.
Currently Robert maintains a private integrative psychotherapy practice in New Haven, Connecticut.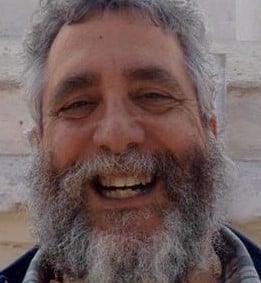 Dr. Larry Leeman
Larry Leeman MD MPH is a Professor in Family and Community Medicine; Obstetrics and Gynecology at the University of New Mexico School of Medicine and board certified in Addiction Medicine. He graduated from the California Institute of Integral Studies Program in Psychedelic Assisted Therapies and Research in 2021, has been certified in MDMA Assisted Therapy by MAPS and has trained in Ketamine Assisted Psychotherapy with PRATI and Polaris.
During a research sabbatical at the University of Wisconsin he participated in research with MDMA and Psilocybin. His current research focus in psychedelic assisted therapies at the University of New Mexico focuses on trauma and addiction, group psychedelic assisted therapy, and the use of MDMA for postpartum women with PTSD and opioid use disorder. He is currently completing his second year of training in Hakomi, a form of mindfulness certified Somatic psychotherapy and is in the Grof Holotropic Breathwork practitioner training program.